History of J.D. Fox Micro
Since 1996, we have serviced all kinds of clients in the greater Los Angeles area on their computer networks.
Early Days
Originally, we used the trade name of J.D. Fox Microcomputers. This 19th-century style name was meant to represent old-fashioned values of personal service, humorously juxtaposed with a 20th-century invention (the microcomputer, which is what PCs were called in their early days to distinguish them from mainframes). From the beginning, we used the multi-color square logo we still use today, to represent simplicity, structure, and breadth of expertise. Our main focus was high-quality custom-built desktop computers, along with typical 1990s computer shop repairs and software services.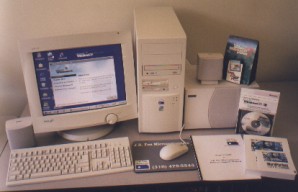 From 1999 to 2001, we maintained a retail space on Pico Boulevard near Overland Avenue, offering our computers (such as the Model H or Model B running Microsoft Windows 98 Second Edition or Windows 2000 Professional) and accessories for sale, while also providing in-shop and on-site consultation and service on an hourly basis.
Here is how the store looked in the late summer of 2001.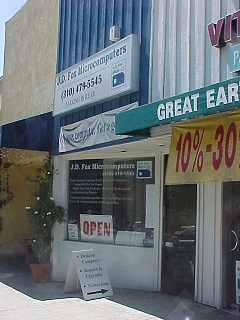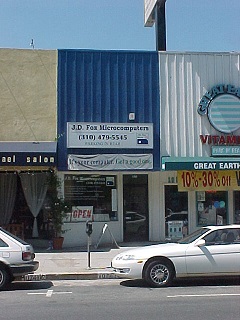 Even as late as 2010, customers have called just to say their computers lasted much longer than they expected, and that they were happy to have made the investment in a quality desktop computer designed and built by J.D. Fox Microcomputers.
Expanding from Retail
But, by the end of 2001, with increasing focus on server sales and network management, maintaining a storefront no longer made sense, and we moved to our current location on Sawtelle Boulevard. We dropped "computers" from our name as well, shortening the name to J.D. Fox Micro, as we support the microtechnologies in all kinds of products—including network routers, wireless devices, advanced displays, and printers, as well as regular desktop computers, laptops, servers, and now tablets and mobile phones. We delivered our last J.D. Fox Microcomputers brand desktop computer in early 2002.
Since then, we have continued to provide expert, valuable service to clients throughout Southern California, developing and maturing our knowledge of business processes and project management from working closely with so many different types of companies and other organizations—manufacturing, distributing, importing, medical, dental, legal, printing, schools, churches, synagogues, retail, architecture, finance, marketing, accounting, and restaurants.
And from our long experience and astounding base of knowledge going back twenty years, we can handle everything from the oldest equipment to the latest. We have never been the kind of service provider that pushes you to just buy new equipment to make it easier for us to handle, unless there is a real benefit to you that justifies the investment.
To the Current Era
Continuing always to innovate, we transitioned in 2010 from service on an hourly basis to fixed-rate service per job or per month. So far, it has proven quite successful in its goal of providing our clients with better performance and value from their systems while keeping expenses predictable and stable. This represents the culmination of many years' experimentation, reflection, and determination to figure out how to best serve our clients so we are all happy in the end.
In addition, we have kept up-to-date with the latest IT paradigms and fads as they come and go, and applied them with a tempered, sensible approach. For example, here in 2018, we will always make sure that you run applications or keep data on hosted service providers (often called "the cloud") when it's appropriate, and that you maintain your own servers and equipment where that makes better sense.
All along, we have maintained the highest level of ethics in business and billing practices, and continue to keep our skills up-to-date.
Into the Future...
We will continue to always find better ways to deliver value to our clients through our dedication to excellence and hard work, as we have ever since the founder built and sold a computer to his first client back in 1996. We hope you'll come along for the ride, so you never have to worry about who will take care of your computers and your IT system again. After all, we invented technology to serve us, not burden us, didn't we?