What Warranty Should You Get?
How to evaluate manufacturer's warranties on Information Technology equipment
Page 2 (Go back to page 1)
Technical Support
You can purchase a technical support contract from many manufacturers. With this kind of contract, you can call them for help when something goes wrong, and they will try to isolate the fault for you, even if it involves programming your systems or installing and configuring software. But, if it appears the problem could be caused by a device other than equipment your contract covers, they may ask you to contact whomever supports the other device, to make sure they're not spinning their wheels. Sometimes you will become a ping-pong ball.
Customers can't reach my web server! Who will help me?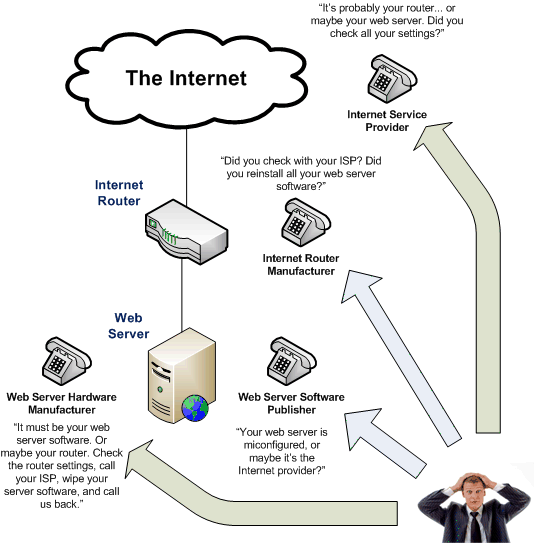 In addition to not being comprehensive in relation to your network, support contracts can be very expensive. Also, each time you have a problem, the resolution can take a relatively long time for the outsourced provider to learn enough about your network to isolate the cause and explain to you how to fix it, compared to a skilled on-site technical manager who knows your network and your operations already.
Redundancy
A highly effective method of ensuring uptime is to implement redundancy. For example, instead of buying technical support and emergency service contracts on a server, you might purchase and install two identical servers, and configure one to run as a backup of the main server. Modern operating systems all support automatic activation of the backup server when the main server fails, although this does require some expertise to properly implement and maintain. If you combine a good redundancy plan with a good warranty and technical support package, you can get your expected downtime to near zero.
Filling the Gap
J.D. Fox Micro can help you fill the gap. That is, if you need a server to be up and running the next day if there's a problem, or even if you need it available at all times no matter what, then we will cover that for you, by ensuring you have a solid fault-tolerance system, by ensuring the manufacturer's warranties and support on equipment you buy are genuine and appropriate for your situation, and by performing any needed work to maintain your required level of operations if equipment or software breaks down. And, under the J.D. Fox Micro IT System and Cloud Management Contract, this is all included in your fixed monthly fee.
For more information, if you're not a client already, check out the Services section of this website, or contact J.D. Fox Micro.